Sound attenuated ventilation sets
Combine ventilation and soundproofing
Rooms that house machines and installations must be well ventilated. Heat often accumulates in the room and adequate cooling air is required. For example, it is important that flue gas is extracted when engines and generators are involved.
Moreover noise produced by machines and installations must not be audible outside, through the ventilation openings.
Alara-Lukagro supplies complete sound attenuated ventilation sets based on its knowledge of sound and air flows.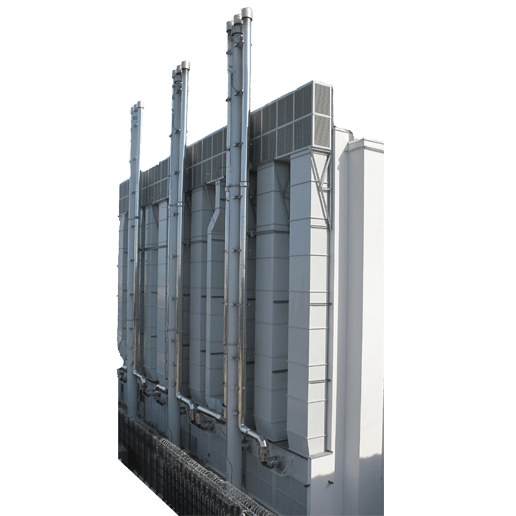 Important for your ventilation set
We understand what is important to you in your ventilation set's design.
Optimal performance of your machine or equipment
Your machines or equipment is very costly. We understand this all too well. This is why we design the ventilation sets in such a way that your equipment can deliver an optimal performance, by removing heat and providing a fresh air supply.
The guarantee of an optimal result
A successful project and satisfied user. And a project that complies with all the established requirements related to safety, noise limits, durability and so on. Our approach guarantees you the best results. And our references speak for themselves.
Effective and efficient
We jointly reflect on your project as of the design phase, so that the ventilation set can be produced as efficiently and effectively as possible.

Options and possibilities
Ventilation sets can be produced with:
Ductwork with silencers and ventilators
Filters, multileaf dampers, fire dampers and rain hoods
Exhaust system with approved and certified flues
Our very own engineering and production facilities already jointly reflect on your project in an early phase of the process in order to devise a suitable solution for the most complex situations.

We make your project a success
Our project approach is based on knowledge. Knowledge of noise control, of market demands and of advanced engineering and production methods. We calculate soundproofing, heat accumulation, air flows and air speeds using CFD and FEM analyses. Aditionally, we have obtained a wide range of certificates.

Enquiry and prices
The exact execution of the ventilation set depends on:

The source
Number of machines
Brand/type/dimensions of the machine
Machine noise
(spectrum from 63 Hz to 8,000 Hz)
Required ventilation air
Possible gases released

Environmental conditions
Noise requirements
Safety requirements (e.g. fire resistance)
Temperature
Other conditions: dust, etc.

Other requirements
All possible options, such as filters, multileaf dampers,
fire dampers, rain hoods, etc.
Want tailor-made advice for your project? We'd be delighted to sit around the table with you to discuss your needs!
"I'd be delighted to sit around the table with you to devise the optimal solution for your project. I have years of experience at Alara-Lukagro and consequently understand market demands. Are you faced with a challenge? If so, you've come to the right place!"