Acoustic louvres
Acoustic louvres for your project
Alara-Lukagro's acoustic louvres are suitable for diverse applications; in construction, industry, on maritime vessels and offshore. Each market has specific requirements and guidelines, with which we align the louvres; examples include materials, certified filling and required airflow etc.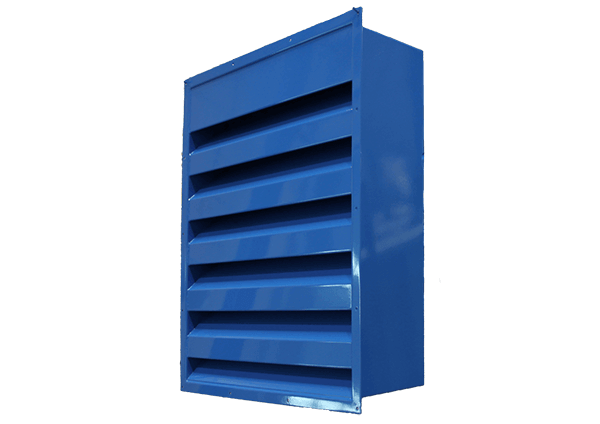 Sound insulation values louvres
Alara-Lukagro acoustic louvres, type AL-R, offer a solution where there are noise-reducing requirements for an outside air grille.
Rw 12 dB (0,-1)
Type AL-R / 150

Rw 19 dB (-1,-3)
Type AL-R / 300

Rw 20 dB (-1,-4)
Type AL-R / 300V

Rw 27 dB (-2,-7)
Type AL-R / 600V


Download this PDF data sheet containing information about material, finishes, options and possibilities. Complete spectral soundproof values, pressure losses and insertion loss. Drawings with details and dimensions.
About our Acoustic louvres
Tested and certified
The louvres' insertion loss is tested and certified in accordance with ISO 7235:2003 (in accordance with the Peutz report A 1659-1).
The airborne soundproofing has been tested and certified in accordance with ISO 140-3:1995 (in accordance with the Peutz report A 1659-1).
Development
Different dimensions of acoustic louvres have recently been subjected to extensive testing. As a result we can optimally combine the desired volumetric flow rate (pressure loss) with the desired noise requirement. This allows us to consistently produce the optimal acoustic louvre for you.
Acoustic louvres for industry
Ventilation for technical rooms, installations and machines
Louvres for construction industry
The acoustic louvres are suitable for utility buildings and housing.
Ventilation for machines and installations
Louvres as an acoustic wall or as part of a total solution.
Standard louvres
We supply four types of louvres, which means the acoustic louvres are relatively standardised. This offers a high degree of efficiency. In terms of dimensions the louvres are produced on a project-specific basis.
Customised acoustic louvres
We can always provide a suitable solution for specific problems. We developed specific acoustic louvres for a project requiring a large number of louvres to comply with the exact project requirements. Our knowledge of sound enables us to successfully carry out such complex projects.
Calculate your acoustic louvres
You can use the louvre selection tool to quickly and easily calculate the acoustic and technical air properties of acoustic louvres.
Complex project? Or do you prefer to receive personal advice about the right louvres? Don't hesitate to contact us.
Relevant projects with Acoustic louvres
Why choose louvres from Alara-Lukagro?
You are guaranteed louvres that deliver optimal performance for your specific situation. As we perform noise and technical air calculations for the louvre and align the design accordingly to the best possible combination of soundproofing and pressure loss. The louvres are fully customised in accordance with your project. We also calculate, produce, coat and assemble them for you.
Enquiry and prices
An soundproof louvre's design depends on:

Noise requirement
Noise requirement
Required pressure loss

Quantity, dimensions and material
Number of louvres
Dimensions
Material

Options
Ventilator plenums, valve housing, fire dampers, bird screen, rain and/or snow guard, with or without flange, desired preservation treatment etc.
The production of acoustic louvres
The production of our acoustic lourvres takes place in our production facility in Groot-Ammers (The Netherlands). From advice & design till guarantee and service, Alara-Lukagro is your partner.
Faced with a complex project or prefer tailor-made advice?
Contact our expert.