Soundproof cabins
A quiet, safe and comfortable workplace.
Noise in a factory hall or machine room disturbs the people that work there and disrupts their concentration. A soundproof cabin offers the solution to this problem. The cabin is designed and equipped to create a quiet, safe and comfortable workplace. This aids concentration and benefits productivity.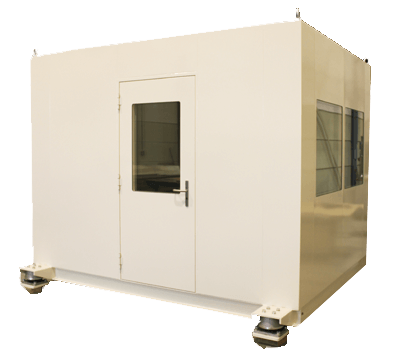 Important for your cabin
We understand what is important to you in a soundproof cabin's design.
Safety
The safety of your employees is paramount. The Soundproof cabins protects against noise and offers diverse options such as fire resistance, safety glass and a rubber floor finish.
Health and comfort
Fresh air, an agreeable temperature and workplaces with desks. Just some aspects that can be integrated in the cabins.
Effective and efficient
Alara-Lukagro produces cabins that live up to your expectations. What's more Alara-Lukagro jointly reflects on your needs to ensure the cabin is as efficient as possible.
A solid and durable cabin
Constructed from steel or stainless steel panels. Long lifespan and maintenance-free.
Quick assembly
Turnkey cabin delivery in which our certified technicians quickly install the cabin. You can also install the cabin yourself using the installation guide.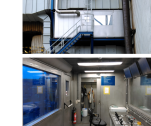 Reference projects with Soundproof cabins
Options and possibilities
We design project-specific soundproof cabins. We can develop a customer-specific standard for you for similar situations. Options and possibilities for the soundproof cabin consist of:
Choice of diverse types of panels, materials and finishes – see download below.
Ventilation (possibly with filters), air conditioning, heating
Installation of electronic equipment such as switch boxes, lighting, HVAC, fire alarms etc.
Access doors, windows with soundproof and fire resistant safety glass
Diverse floor finishes, such as anti-slip, electrically insulated or oil resistant
Desired transits
Self-supporting cabin or with steel construction (with CE marking)
With hoisting lugs (removable): calculated and approved
Mounted on vibration dampers

Working method & certificates
How do we make your project a success? It all boils down to our approach, which is based on knowledge; knowledge of sound, of market demands and of advanced engineering and production methods. We have also obtained extensive certification based on quality, the environment and safety and have received positive feedback on audits performed in our company.
Enquiry and prices
A soundproof cabin's design depends on:

Noise
Noise requirements:
What degree of sound attenuation must be achieved from outside-in?

Environmental conditions
Cabin location: indoors/outdoors.
Safety requirements (e.g. fire resistance).
Other aspects, such as ambient temperature, dust, etc.

Other requirements/specifications
All possible options, such as doors, windows, transits, electrics, HVAC, etc.
Want tailor-made advice for your project? We'd be delighted to sit around the table with you to discuss your needs!
"I'd be delighted to sit around the table with you to devise the optimal solution for your project. I have a number of years' experience in this industry and therefore understand the issues that play a role in the market. Are you faced with a challenge? If so, you've come to the right place!"