Special containers
Customised containers
Do special dimensions, strict noise requirements or special wishes apply to your container? If so, you have come to the right address at Alara-Lukagro. We produce customised containers for gensets, power units or machines, among others. Complete, including a ventilation system. With our knowledge of sound, advanced engineering using CFD and FEM analyses, and extensive production facilities we can produce the container you need for your specific project. Are you facing a challenge? We'd be thrilled to work on it with you!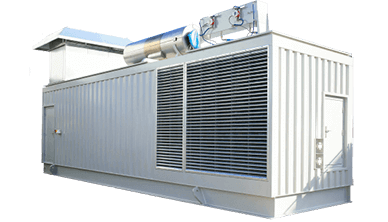 Important for your container
We understand what is important to you in a container's design
Protection for your machine or equipment
Your machines or equipment are very costly. This is why we design the containers in such a way that they benefit from optimal protection against environmental effects and an extreme climate, so that your machine or equipment stays safe.
Complete
Once it has been delivered and connected, your machine is immediately operational. We install all equipment and test the complete product at our site. Transport and installation of the complete operational set on location, at home or abroad.
Guarantee
Controlled sound attenuation and guaranteed end result. The design is also supported by CFD and FEM analyses. This guarantees you an optimal result.
Mobility
Easily moveable container: in its entirety, including all installations, can be lifted and moved in one piece

Options and possibilities containers
Containers are always based on customisation. Options and possibilities consist of:
Dimensions in accordance with your requirements
Including ventilation system: forced ventilation, airflow and noise calculations, air inlet and outlet with air filters, silencers, louvres and fire dampers etc.
CFD analysis: analysis and optimisation of liquid and gas flows
Installation of electronic equipment such as lighting, HVAC, fire alarms and control panels etc.
Access: doors, hatches, windows, etc.
Cable recesses or cable transit systems
Liquid-proof floor
Integrated fuel and/or oil tanks
Steel construction (with CE marking)
Finite Element Method (FEM) calculations – analysis and assessment of strength, stiffness, fatigue, distortion etc.
Hoisting fittings (approved)

Working method & certificates
How do we ensure your project is a success? It all boils down to our approach, which is based on knowledge; knowledge of sound, of market demands and advanced methods such as FEM and CFD analyses. Moreover we have obtained extensive certification and receive positive feedback to audits performed in our company.

Enquiry and prices
The container's design depends on:

The source/machine
Number of machines
Brand/type/dimensions of the machine
Machine noise
(spectrum from 63 Hz to 8,000 Hz)
Required ventilation air
Possible gases released

Environmental conditions
Noise requirements
Location: indoors/outdoors
Safety requirements (e.g. fire resistance)
Temperature
Other conditions: dust, etc.

Other requirements
All possible options such as transits, doors, electrics, desired preservation treatment, etc.
The production of special containers
The production of our special containers takes place in our production facility in Groot-Ammers (The Netherlands). From advice & design till guarantee and service, Alara-Lukagro is your partner.
Want tailor-made advice for your project? We'd be delighted to sit around the table with you to discuss your needs!
"I'd be delighted to sit around the table with you to devise the optimal solution for your project. I have worked for Alara-Lukagro since the beginning of my career. These years of experience allow me to understand market demands. Are you faced with a challenge? If so, you've come to the right place!"