About us
Making the world more silent. Safer. Healthier. For the present, our future and those of the next generations. For both people and environment. That is what Alara-Lukagro stands for. We use our comprehensive theoretical and practical knowledge in the field of sound control in order to create truly good solutions for our customers worldwide.

Inhouse production
From extensive expert advice & design to assembly on-site and service. Alara-Lukagro has all the ingredients to make a project a success. In our production facility, covering a surface area of around 20,000 m2, products (such as soundproof doors, acoustic enclosures and silencers) can be manufactured based on the exact wishes and needs of the customer.
View the tour for an extensive 360 degree presentation of our production facility. Tip! Watch the tour with virtual reality glasses for a spectacular experience.
You can watch the tour in VR by clicking the VR icon 

. When the view below doen't support VR, please click here.
Our people
We have in-house specialists for each branch, who know the relevant questions in the market. Our engineers work with advanced programs. We offer FEM analyses, CFD analyses, 3D drawings, and more.
John de Groot
Machine Department Team leader
"Alara-Lukagro is an innovative, professional company that possesses considerable knowledge and experience. You can approach my colleagues and myself for advice and specific solutions for diverse projects. My challenge lies in continuously supporting you in finding the optimal solution with the required acoustic result."
André Hameete
Director
"I have worked at Alara-Lukagro for over 20 years. Most people in my department have worked here a long time. What's great about this department is that the project first goes into production here. This directly involves the challenge of staying ahead of the other production departments. Everything we do here is carried out with a great deal of commitment and experience."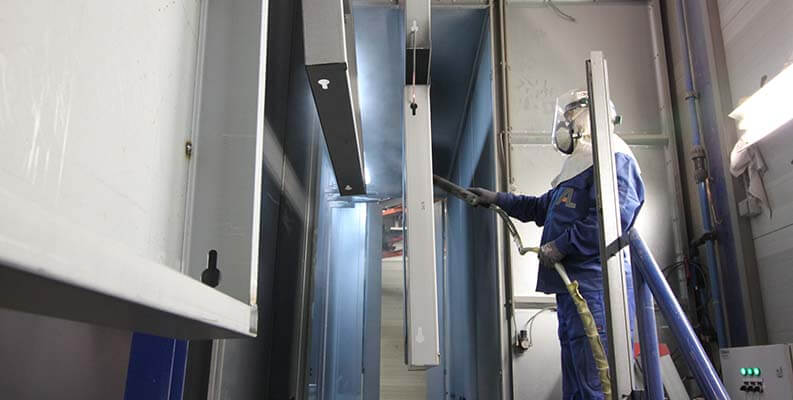 powder-coating and wet-paint
Because of our capacious powder-coating and wet-paint line, our products are resistant to the most extreme weather conditions.
Knowledge and innovation
By continuously investing in our knowledge, cooperating with knowledge institutes and continuously innovating our products and methods, we can exceed our customer's expectations time and time again.
Involved and compact
With Alara-Lukagro, you are choosing an involved and compact organisation that is based on good faith. We aim to work responsibly and sustainably with regard to relations, employees and the environment.
We exceed your expectations by exerting passion for our trade and a genuine interest in the trade of our customers. This dedication ensures that we always find the best solution for each project.
Where Alara-Lukagro stands for
Are you interested in our solutions but want to see for yourself what we're all about? Make an appointment for a guided tour of our production facility and meet our people. You are very welcome!

Knowledge as foundation
Noise control is an art. This expertise constitutes the basis for truly effective solutions. Theoretical knowledge of sound and engineering, combined with extensive practical knowledge. We continuously invest in this knowledge by training our people, collaborating with knowledge institutes and continuously innovating our products and methods.

Suprisingly effective
Quality is self-evident to us. Moreover we will offer you more advice that you asked for. Since we are slightly stubborn and go further than the job description: how could the project be smarter, more efficient, quieter… We always aim for the optimal solution. Customised for your project.

Responsible partner
A committed and compact organisation, with trust as the basis of relationships. Collaboration in the form of a partnership. This is important to us. It also guarantees that with us, even the most complex issues are in good hands.
We manage work in a responsible and sustainable manner, in terms of relationships, employees and the environment.
Come and meet us
We would like to get to know you. Therefore we invite you for a guided tour through our production facility. You will experience for yourself how our solutions for a quiet, safe and healthy world are created. Meet our people and see how proud we are of our work.
Interested? Fill in your contact information and we will contact you as soon as possible.