Solutions for noise
on cruise vessels
Cruise schips, expedition cruise ships, river cruises. No matter the destination of the vessel, for the
crew and the passengers on the ship a silent environment is an absolute must. The custom made noise
control solutions from Alara-Lukagro make each cruise vessel a pleasant place to stay.

Our solutions for a safe and pleasant environment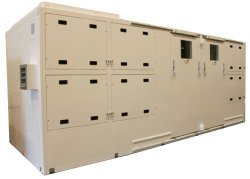 Enclosures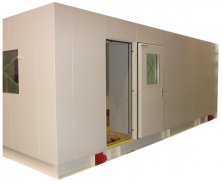 Walls and doors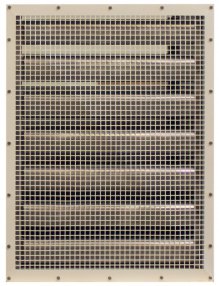 Ventilation provisions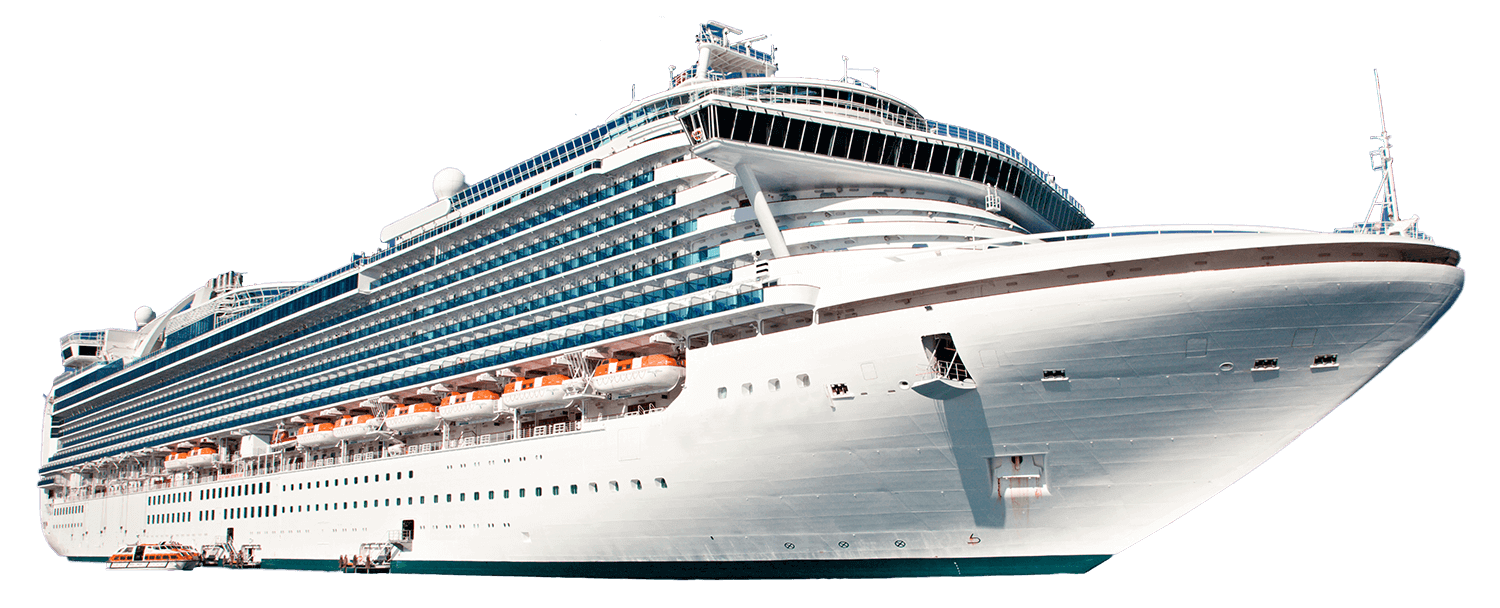 Sound insulating enclosures
Advantages of a sound insulating enclosure:
The advantages of using a sound-insulating enclosure for propulsion engines, turbines and/or generator sets on cruise ships.
Low noise emission: it is remarkably quiet when the propulsion engines, turbines and/or generator sets are in operation. The enclosures thus contribute to a safer and more pleasant engine room.
Low heat emission: the radiated heat from the engine or generating set can be removed directly from the engine room via ducting / ductwork.
Ease and lower costs: an enclosure means handling the noise problem right at the source. Therefore, acoustic insulation of the generator room is easier and saves you costs.
Properties of an Alara-Lukagro enclosure:
Aesthetics: clean design with stainless steel hinges and locks. Provided with hign quality surface treatment on the in- and outside of the enclosure.
Shock-resistant: the enclosure design can accommodate ship movements, if desired, making it suitable for cruise vessel application.
Easy maintenance: perfect accessibility thanks to modular design. The frame and removable panels make maintenance of the motor or generator easier.
Safe: improve safety in an event of fire with integrated fire-extinguishing units.
Durable: made with high quality materials and hardware.
Optimal performance of the motor or gensets: the enclosure is executed with sound attenuated ventilation provisions tailored to an appropriate cooling of the motor or generator sets.
Warranty: noise reduction is always guaranteed.
No vibration noise: vibration free installation with for instance a "double mass resilient system" is possible. For example, machinery to enclosure base frame and enclosure base frame to ship structure.
Accessibility and space-saving: use of either hinged or sliding doors allows for quick, easy access using minimal space within the engine room.
Completely care-free: if desired, we can place the generator set in the enclosure, arrange transport and perform the installation as a whole on the cruise ship, with our own experienced and certified assembly team.
Complete: including base-plate with drip pan function, if desired.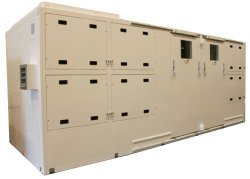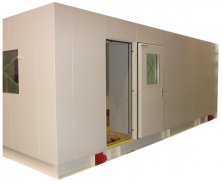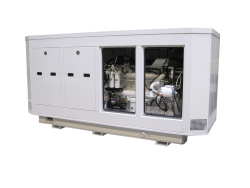 Sound insulating walls and doors
The advantages of walls and doors for your cruise vessel:
Sound insulating walls offer you the possibility to create a fully enclosed, quiet room. The walls can be installed afterwards or in a later stage, which enables you to install bigger objects such as engines in the designated room earlier.
Doors have a clean design and are fully customisable and are therefore very appropriate to place anywhere in the cruise ship where high sound insulation is essential.
Alara-Lukagro provides you with:
Quality doors with high sound insulation values and fire resistance properties. Integrated windows with sound insulating glass is possible. The doors are custom-build; all shapes and sizes are possible.
Clean-designed, high quality sound insulating wall elements with high sound insulation values. Walls can be provided with sound insulating doors, glass and ventilation openings with silencers.
Sound absorption panels for walls and ceilings. The panels are custom-build; all shapes and sizes are possible. The panels ensure a high sound absorption level in the room and a complete quiet result.
Ventilation provisions
The advantage of using noise reducing products for cruise vessels:
Limit noise to the bare minimum or meet the applicable noise requirement.
Please contact Alara-Lukagro for:
A ventilation system with optimum efficiency. Limit the pressure loss and the obstruction of the airflow, whilst taking into account the maximum backpressure of the underlying installations. Due to this the desired noise reduction will be achieved with optimum efficiency.
A wide range of products which offer you the optimal configuration and solution. These products, including silencers, acoustic louvres or complete ventilation systems, are tailor-made for you.
The complete noise and ventilation calculation for the supplied systems with guarantee on the agreed values and requirements.
Filter systems, pressure monitoring, valve systems etc. for a complete turnkey solution.
Wet-paint & coating
Our core-business is noise control. To ensure the high quality standard of our noise controlling products, we have our own wet-paint and powder coating facilities. Therefore, we can offer a complete solution including coating of the generator set and its foundation in the same colour and quality as the sound enclosure.
More solutions for silent cruise ships
Various other solutions for cruise application:
Sound insulation of machines and installations, such as mooring arrangements, bow thrusters, pumps, etc.
Vibration isolators such as exhaust suspensions, pipe systems or anti vibration mounts (AVM) for other applications.
Sound absorption panels for walls and ceilings. The panels are custom-build; all shapes and sizes are possible.
Alara-Lukagro as your partner means
Made in Holland: quality is guaranteed. Custom design, engineering, production and coating, all in our own facility in The Netherlands.
Knowledge: knowledge of sound, of demands from the market and advanced engineering and production methods.
Experience: ask for our impressive reference list.
Advice on the most effective, efficient and usable solutions for your situation.
Worldwide delivery and installation by our own experienced and certified machanics.
Approved and certified: Alara-Lukagro is ISO 9001, ISO 14001 and SCC certified. As far as possible we use MED-approved materials. We have experience with notified bodies such as BV, DNV-GL, Lloyd's and ABS.
Reference list available on request
We have extensive experience in noise control solutions for cruise ships. We are proud of the impressive reference list with worldwide deliveries we supplied over the years. The complete reference list is available on request.
Do you want a tailor-made advice for your Cruise vessel project?
We'd be delighted to sit around the table with you to discuss your needs!
"I'd be delighted to sit around the table with you to devise the optimal solution for your project. I have a number of years' experience in this industry and therefore understand the issues that play a role in the market. Are you faced with a challenge? If so, you've come to the right place!"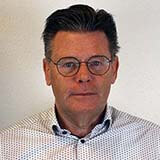 Cees Bassa
Sales Manager
+31 (0) 184 661 700